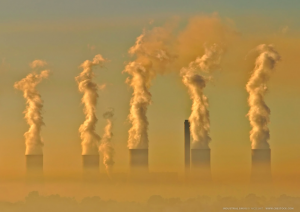 Right now, the EPA is preparing to release stronger nationwide ground-level ozone (aka "smog") standards — but America's largest corporate business lobby is doing everything it can to postpone those efforts.
President Obama is facing intense political pressure from the U.S. Chamber, the American Petroleum Institute and other big industry groups to delay the new pollution standards until 2013.
The U.S. Chamber is arguing that stronger ground-level ozone standards will hurt the economy — this is the same tired old rhetoric that it always uses when it's trying to protect the profit margins of it's wealthiest members, by playing off people's fears. The U.S. Chamber rounded up just 170 local businesses to sign onto a letter urging a delay in the release of EPA regulations — and 170 businesses isn't very impressive compared to the number of people in our network we know are committed to clean air and a safe climate future.
We sent a letter to the small business owners across America who have declared "The U.S. Chamber Doesn't Speak for Me" asking them tell Obama not to delay the smog standards. Over 100 businesses signed up in under an hour after the e-mail was sent out, and by the end of the week close to 1,000 business owners had added their voice, asking that Obama protect our economy and our health by allowing the new smog standards to go through.
To read the Press Release, click the link below.