Join the Sustainable Business Movement
We invite you to join the Businesses and business organizations working to address energy and climate issues as they build a vibrant, equitable and sustainable economy.
There are a growing number of businesses which are working to address climate and energy issues as well as a host of related issues. Many seek to build our economy so it supports business growth and innovative and good jobs, as they also seek to ensure the well being of our communities and the planet.
We encourage you to learn more about what they are doing and consider joining them in their efforts.
National Sustainable Business Networks
Become part of the American Sustainable Business Council to help build a more vibrant, just and sustainable American economy or the many other organizations working at the national, state and local level.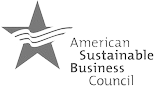 The American Sustainable Business Council is a growing coalition of business networks and businesses committed to advancing a new vision, framework and policies that support a vibrant, equitable and sustainable economy. The Council brings together the business perspective, political will and strength tostimulate our economy, benefit our communities, and preserve our environment. Today, the organizations that have joined in this partnership represent over 70,000 businesses and social enterprises and more than 150,000 entrepreneurs, owners, executives, investors and businessprofessionals and other individuals. www.asbcouncil.org
Business Alliance for Local Living Economies: BALLE is North America's fastest growing network of socially responsible businesses, comprised of over 80 community networks in 30 U.S. states and Canadian provinces representing over 22,000 independent business members across the U.S. and Canada. BALLE believes that local, independent businesses are among our most potent change agents, uniquely prepared to take on the challenges of the twenty-first century with an agility, sense of place, and relationship-based approach others lack. They are more than employers and profit-makers; they are neighbors, community builders and the starting point for social innovation, aligning commerce with the common good and bringing transparency, accountability, and a caring human face to the marketplace.
Green America: Green America's Green Business Program provides the networks, resources, and technical assistance needed for socially and environmentally responsible businesses to emerge and thrive in communities across the US. Plus, we help individual consumers shift their spending to support green businesses and help build a green economy.
Chambers for Innovation and Clean Energy: CICE is an active network of local chambers of commerce dedicated to restoring the nation's leadership in innovation and economic prosperity. Working through CICE, local chambers of commerce can join with like-minded chambers to advance meaningful, market-based solutions to transition quickly to clean energy and unlock the potential growth for America to re-gain its leadership in the 21st Century global economy.
American Independent Business Alliance: AMIBA is a non-profit organization helping communities to launch and successfully operate programs to support community-based enterprise and entrepreneurism, build local wealth and prevent the displacement of independent businesses by major corporations.
State Groups