Over that past four weeks, a movement has surfaced—beginning with the #OccupyWallStreet protest and now spreading to hundreds of cities across the country—of everyday people coming together to show that they're tired of the way the wealthiest 1% do business in this country. These non-violent occupations aren't just a fluke, or a passing fad. They're a response to the corporate greed that led to our economic crisis, and to the kinds of rapacious anti-government policies that the U.S. Chamber continues to champion.
The "We are the 99%" slogan is spreading—from the mouths of small business owners, students, and even World War II veterans—to headlines nationwide.
In the midst of the Occupy protests, the U.S. Chamber has been working tirelessly to try and convince that nation that it's lobbying for what's in the best interest of the economy, yet public scrutiny continues to mount among small business owners, corporations and local chambers of commerce over a variety of concerns.
Politico's Morning Tech reported yesterday that Yahoo has decided not to renew it's membership with the U.S. Chamber over it's stance on the PROTECT IP Act, adding to the growing list of major corporations that have quit the national organization based on it's controversial political lobbying.
The number of local chambers that are defecting from the U.S. Chamber continues to grow. In September, the Homer Chamber of Comm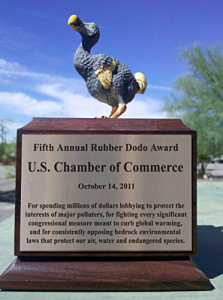 erce in Alaska announced that it would not be renewing it's membership because of the U.S. Chamber's stance on climate change, and the Boulder Chamber of Commerce has signed onto "The U.S. Chamber Doesn't Speak for Me" campaign. This brings the count of local chambers that have publicly distanced themselves from the U.S. Chamber up to 55!
The U.S. Chamber has recently won two awards that are well deserved. The Center for Biological Diversity just announced that the Chamber is the winner of their Rubber Dodo Award, awarded annually to those who have done the most to push endangered species toward extinction. CBD's members voted and agreed that when it comes to climate change—one of the biggest threats to endangered and non-endangered species everywhere—no one has done more to get in the way of carbon regulation than the U.S. Chamber. Additionally, the Chamber won the Wall Street Journal's Corruption Story of the Year award for it's concerted efforts to weaken the Corrupt Foreign Practices Act.