At the Global Business Forum in Canada on Saturday, September 24, U.S. Chamber President Tom Donohue told the crowd that he had taken a tour of the "extraordinary" Alberta tar sands oil fields, and that the U.S. had "no choice" but to approve the proposed Keystone XL pipeline, which would carry the highly corrosive and especially dangerous oil from Canada through six Midwestern states to the Gulf of Mexico if the State Department approves the project later this year.
Even as Donohue was touting the supposed merits of a pipeline that would be devastating to sensitive ecosystems, drinking water supplies, indigenous peoples and the climate, hundreds of thousands of people around the world came together for Moving Planet on Saturday in a global demonstration of the need to move beyond fossil fuels. At 2,000 simultaneous events in more than 170 countries, people took to the streets en masse—on bike, on foot, and more—to demand that their governments start leading the planet in a new, fossil fuel-free direction.
Moving Planet was not the first—nor the last—historic day of action to protect communities and economies from runaway climate change. Only a few weeks ago, more than 1,200 peaceful protesters were arrested in front of the White House in the largest act of environmental civil disobedience in history, in order to bring national attention to the dangers of the Keystone XL pipeline. Today, hundreds of protesters have gathered at a similar demonstration in front of Parliament Hill in Ottowa, to demand that the Harper government cease any support of the Keystone XL pipeline.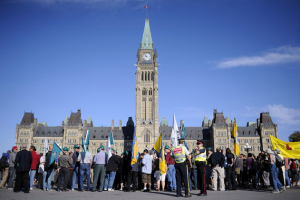 The timing of Donohue's speech to the Global Business Forum was very telling—there will always be a small percentage of wealthy corporate elite fighting to protect the status quo and a "Business as Usual" approach to energy development, because their profit margins depend on the system remaining unchanged. But one small speech to one small group of individuals can't compare to the power of citizens uniting all over the world to demand a change in the way our global economy is powered. The small business community and the world at-large have proven that they are ready to move beyond fossil fuels, and the first step toward winning that fight will be the defeat of the Keystone XL project.