Our team here at 350.org has been watching in horror as the tragic events continue in Japan. Just as the devastation of the earthquake and tsunami begins to fully reveal itself (the death toll is likely to climb above 10,000), a new threat is quickly escalating: a nuclear disaster.
An explosion at the Fukushima Daiichi's reactor 3 on Monday: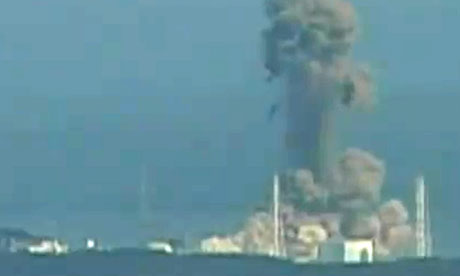 The dangers of nuclear power have been hotly debated for years. We think an honest debate is necessary to look at the costs and risks of nuclear power, especially in regards to other clean alternatives, such as wind and solar. But that sort of debate is impossible when the nuclear power industry and its allies, like the US Chamber of Commerce, spend millions of dollars to try and push forward new nuclear projects without  proper review.
In their new report, Project No Project, the US Chamber lists 23 different nuclear power plants it would like to see construction begin on. In each case, rate payers, public health advocates, environmentalists, or community groups are standing up to oppose the plants. The US Chamber likes to portray this as "extreme behavior," but often times it's just plain common sense.
Take the case of of a nuclear power plant that was proposed for Victory County, Texas in 2008. The plant was cancelled after the Sierra Club and community groups revealed that the costs of building the plant were grossly underestimated by proponents.
"Texas utilities say that their responsibility is to provide affordable, reliable power, but nuclear power falls short on both counts," said Karen Hadden, Executive Director of the Sustainable Energy and Economic Development (SEED) Coalition.
In fact, the real solution to delivering energy security, was increasing energy efficiency. A press release at the time reported: "A recent Texas Public Utilities Commission report written by ITRON found that Texas could reduce electricity use by 23% through energy efficiency and save nearly $12 billion on electric bills. Efficiency measures would save the state $2 on electric bills for every dollar invested."
Or take the proposed Calvert Cliffs-3 nuclear reactor project in Maryland that the Chamber highlighted in the Project No Project report. A press release from the non-profit group Nuclear Information and Resource Group explains:
"The Calvert Cliffs-3 reactor proposal is indeed stalled," said Michael Mariotte, executive director of Nuclear Information and Resource Service, "but that's of its own making. Not only would this $10 Billion+ reactor be economic suicide for any entity that chose to try to build it, but it is patently illegal. It is entirely owned by the French government, through its state-owned utility Electricite de France. Not only that, but the reactor itself would be supplied by another French government entity, the state-owned Areva. U.S. law prohibits foreign ownership of a U.S. reactor project."

"We find it ironic that the U.S. Chamber of Commerce would go to bat for a French government project where all the profits (in the unlikely event there were any) would go immediately to France, rather than any U.S. companies, or, for that matter, members of the U.S. Chamber of Commerce. It appears that in its zeal to promote dirty, dangerous, and extraordinarily expensive nuclear reactors the Chamber has lost sight of who it represents," said Mariotte.

"It's especially disappointing that the Chamber did not use the opportunity to promote offshore wind legislation proposed by Governor Martin O'Malley that is currently before the Maryland legislature. This project—proposed by NRG Energy's Bluewater Wind—would provide clean energy, jobs, and ultimately affordable electricity for Maryland, while avoiding routine radiation releases, radioactive waste generation and the transmission of Marylanders' dollars to France," added Mariotte.

"We suggest that the Chamber would be better off looking out for the interests of its own members—and the interests of U.S. citizens—rather than of foreign governments. In the meantime, NIRS will continue our efforts to stop this and other nuclear power projects (which we're proud that the Chamber recognized) and protect the American people from skyrocketing nuclear costs, unnecessary radiation exposure and the constant threat of nuclear catastrophe," Mariotte concluded.
The US Chamber's irresponsibility on the subject of nuclear power is yet another reason why the US Chamber doesn't speak for the majority of American business. Instead of rashly pushing expensive, dangerous, and industry friendly forms of energy, the US Chamber should step out of the way and let the people decide what sort of power they want to fuel the 21st century economy. After the disasters in Japan, we deserve the space to take a much closer look at nuclear power without the Chamber's lobbyists breathing down our neck.