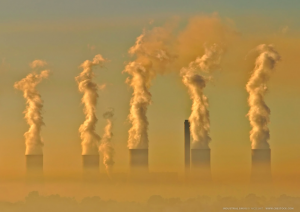 Right now, the EPA is preparing to release stronger nationwide ground-level ozone (aka "smog") standards — but America's largest corporate business lobby is doing everything it can to postpone those efforts.
President Obama is facing intense political pressure from the U.S. Chamber, the American Petroleum Institute and other big industry groups to delay the new pollution standards until 2013.
The U.S. Chamber is arguing that stronger ground-level ozone standards will hurt the economy — this is the same tired old rhetoric that it always uses when it's trying to protect the profit margins of it's wealthiest members, by playing off people's fears. The U.S. Chamber rounded up just 170 local businesses to sign onto a letter urging a delay in the release of EPA regulations — and 170 businesses isn't very impressive compared to the number of people in our network we know are committed to clean air and a safe climate future.
We sent a letter to the small business owners across America who have declared "The U.S. Chamber Doesn't Speak for Me" asking them tell Obama not to delay the smog standards. Over 100 businesses signed up in under an hour after the e-mail was sent out, and by the end of the week close to 1,000 business owners had added their voice, asking that Obama protect our economy and our health by allowing the new smog standards to go through.
To read the Press Release, click the link below.
FOR IMMEDIATE RELEASE
8/19/11
Contact: Jamie Henn, jamie@350.org, 415-601-9337
Small Business Owners Denounce US Chamber: Cry Foul over False Claim That Smog is Good for Business
Washington, DC– Nearly 1,000 small business owners this week from across the political spectrum have joined forces to denounce the US Chamber for claiming smog regulations will crush small businesses.
Quite the contrary, says Dan Korman, a restaurant owner in Cincinnati, Ohio, "The US Chamber claimed to represent small business last week when it pushed Obama to let smog pollution slide. Small business owners don't like smog, our families don't like breathing smog, and the climate can't handle any more of it."
Angered by the idea that the US Chamber was denouncing smog reduction in their name, a number of small businesses countered the effort by launching their own letter and joining a campaign called "The US Chamber Doesn't Speak for Me."
"The US Chamber builds its credibility by claiming to speak for American business owners. But the fact is, on issue after issue, the Chamber really only speaks for a handful of wealthy corporate donors who fund their lobbying budget," said Christy Setzer of U.S. Chamber Watch. "From smog regulations to health care reform to Wall Street reform, the Chamber's policies will hurt the very small businesses and local Chambers they claim to support– all so that they can do the bidding of Big Oil companies, pharmaceutical industries, and big corporate outsourcers."
In fact, only a tiny fraction of local Chambers of Commerce are members of the U.S. Chamber of Commerce. Moreover, the majority of the U.S. Chamber's lobbying budget– over $200 million in 2009– was funded by just 16 contributors, including one mind-boggling $86 million donation from America's Health Insurance Plans (AHIP).
For Barry Price, the owner of Applied EarthWorks, Inc in Fresno, CA, the equation was simple: "Clean air attracts new business to my community–bad air chases it away."
Last week, the Wall Street Journal reported that the US Chamber of Commerce and the American Petroleum Institute had joined forces to find 170 small business owners to sign a letter to President Barrack Obama that claimed smog regulations would be bad for small business and insinuated that trying to cut smog would send jobs from those businesses overseas.
Republican business owner Bill Ferrel of Coralville, Iowa signed the letter because he felt the ultra wealthy corporations represented by the US Chamber have proven they need supervision.
"As a conservative voter, I recognize personal and corporate responsibility as a primary way for each of us to act in a way that is best for our society as a whole," said Ferrel, the President of Agape Sustainability Advisors. "Unfortunately, when it comes to smog and the quality of the air we breathe, our corporations have shown the need for regulations that protect our air and allow for a level playing field for small businesses."
"The US Chamber Doesn't Speak for Me" was launched by climate campaign 350.org after the group identified the US Chamber of Commerce as the largest obstacle to climate action in the United States. Over 98% of the Chamber's 2010 campaign contributions went to climate deniers.
"The knee-jerk opposition by the Chamber to environmental regulation is now cliche, " said H. Bishop Dansby, an Attorney At Law in Keezletown, Virginia.
###